First BIT has Successfully Completed Two Projects for the Largest Teleshop in Russia
26 January 2017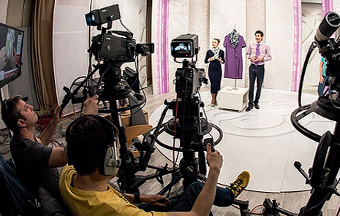 First BIT's International Department is glad to announce the successful completion of two large-scale projects of retail automation for "Shopping Live" – one of the most important players of the Russian teleshopping market.
"Shopping Live" is one of the largest TV and online shops in Russia. It has more than 100 000 goods of various product categories in its assortment.
To enhance the efficiency of its activities, increase sales and optimize business-processes, the company needed an integrated system for consolidation of diversified data in a single center, automation of trade and logistic operations, documentation.
For the realization of these tasks "Shopping Live" has chosen First BIT's International Department.
Having analyzed the Client's needs, the consultants of First BIT offered to create a new system on the basis of the already existing product "1C:Trade Management". "Ernst&Young" company acted as a partner in developing methodology, the system's design and educational trainings.
As a result of implementation of a new program, that the Client named SPECTR, "Shopping Live" managed to increase effectiveness of its activities, to simplify and automate data entry, documentation, salary and profitability calculation and relations with suppliers.
Apart from that, due to the necessity to prepare IFRS accounting reports, "Shopping Live" needed to implement an IT-solution, that would allow to perform simultaneous accounting according to RAS and IFRS in compliance with the Russian legislation and also the requirements of the parent company HSE24, located in Germany.
The specialists of First BIT's International Department suggested that the Client should use "BIT.FINANCE.IFRS" for these aims.
Within 3 months they made all the necessary modifications, implemented and adjusted the new system, which allowed the financial managers of "Shopping Live" to optimize the process of report formation by increasing its speed and by automating operations, that had been performed manually before the project.
As a result of these two projects, "Shopping Live" company has managed to:
increase the effectiveness of its activities (the sales have grown virtually 2 times),
speed up all the main business-processes of the organization (including the preparation of reports) and
optimize the employees' communication between each other, with clients and suppliers.