Integration with 1C
Integration of 1C with SAP, Oracle, Axapta, Navision and other corporate systems
Contact our specialists in integration with 1C
Main integration strategies
To localize the current corporate system
The head office of a foreign organization generally uses a ERP, EAM or a SCM-system. While localizing such a system, the company undertakes great expenses, and at the same time there arises the necessity of dynamic maintenance of the solution, because RAS (Russian Accounting Standards) are being constantly changed and supplemented.


To integrate the corporate system with alternative software
We consider this option the most advisable one. We offer our clients to use 1C Company's solutions for report formation according to RAS and corporate standards (IFRS, GAAP, PCG etc.) with further integration with a global system.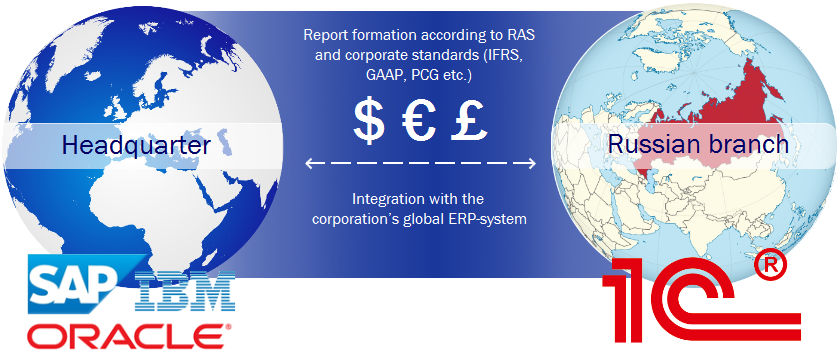 What are our advantages?
| | | | | |
| --- | --- | --- | --- | --- |
| | | | | |
| We understand technical differences between 1C and other systems and we know the ways to overcome any difficulties related to integration. | | It's important! We know the methodological difference between the Russian and the international accounting standards. | | We have experience of working with clients from all over the world. We have not «handicraft» knowledge, but complex expertise in solving this kind of tasks. |
Our Clients
| | | | | | | | | |
| --- | --- | --- | --- | --- | --- | --- | --- | --- |
| | | | | | | | | |
| Europe | | Japan | | Europe | | Korea | | Finland |
Five advantages of integration with 1C
Prompt and correct accounting according to RAS
Frequent changes in Russian legislation require introducing prompt changes to an accounting system, and the software solutions of western vendors require time and financial resources for maintaining the system according to the legislation of the Russian Federation.
Reduction of expenses on automation and further maintenance of IT-landscape of a Russian branch
Usually, localization and further maintenance of the global system in Russia costs more than using 1C solutions.


Getting comprehensive information for decision-making
Efficient and detailed reports, reflecting all the aspects of the company's activities for management.



Possibility to perform parallel accounting according to RAS and IFRS


Many of 1C Company's products have the respective module.




Various formats for data transmission
CSV, XLS, TXT, SAP IDoc etc.


How does this work?
While completing projects on integration with 1C, we pursue two main aims:
| | | |
| --- | --- | --- |
| | | |
| Uploading the transactions (purchases, sales tic.) from a corporate system into 1C for formation and filing of the accounting reports according to RAS. | | Uploading the transactions journal from 1C into the corporate system for filing the accounting reports according to corporate standards. |
Contact our integration specialists
Fill in your contact information, and our specialist will contact you


Testimonials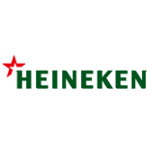 ''Just in a half a year, we've got the first results. The processes, that used to take up to several weeks, take several hours now. I can absolutely say that the project lives up to HEINEKEN Company's expectations, and the investments were the right thing to do''.
Alexander Kondrashev,
Project Manager, HEINEKEN Russia

"In the course of the project there has been shown high professionally in solving methodological, IT and management tasks of our Group of companies."
A. Ryumin,
Deputy Financial Director, "RKS Development"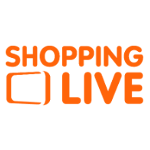 "Implementation of BIT.FINANCE.IFRS has allowed us to improve accuracy and transparency of financial reports and operations, release the employees of the financial department from manual work. All the necessary functionality was implemented with the minimum amount of modifications, which decreases the costs of owing and maintening the product."
V. Burmistrov,
Head of Business-Processes Control Group, Shopping Live